Major Aerospace Standard Achieved by Indestructible Paint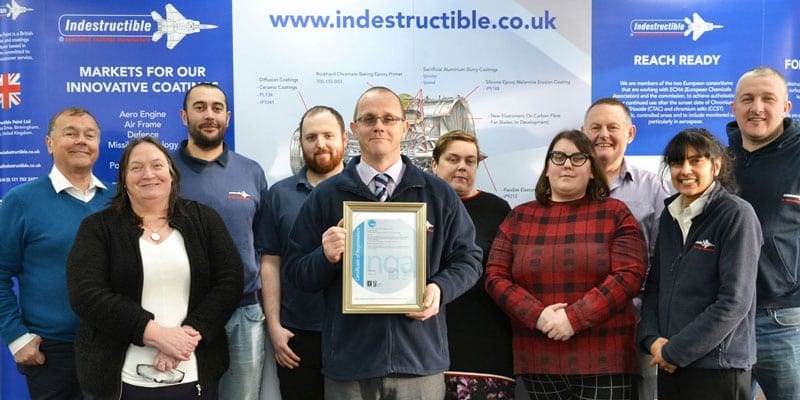 Industrial Painting Specialists
Indestructible Paint Ltd. has achieved a major aerospace accreditation achievement in obtaining AS9100 Revision D. This reflects a company-wide commitment to achieving and maintaining high quality aerospace system operations.
"
Commitment to the highest of standards
The Revision D recognition, which builds on our well-established Revision C accreditation, is a direct result of our management's and employees' commitment to the highest standards," says Brian Norton, Indestructible Paint's Managing Director. "
The six-month process benefitted from a close liaison with the British Standards Institute – including specific BSI training – with eight staff workers completing BSI audits and a further ten meeting background audit requirements."
Quality, Health & Safety and Environment
The achievement has also seen the appointment of Steven Salter to the position of Q.H.S.E Manager who will oversee all aspects of Quality, Health & Safety and Environment at Indestructible Paint. "
It is clear that achieving recognition to AS9100 D provides a solid foundation for developing business practices in the future," he says. "
It is pleasing to see that there is a great team in place that is focused on developing the business and I am delighted to bring my knowledge and experience to assist with the ambitious plans for the future."
Regular liaison with key departmental employees
Indestructible created a 'core team' to address the accreditation requirements, a part of which involved regular liaison with key departmental employees across the company. "This proved to be a highly efficient means of identifying and implementing the relevant improvement plans," adds Brian Norton.
A reflection of the commitment to an ongoing quality improvement programme, the achievement of AS9100 Revision D recognition further enhances our role in the industry.
"
Continuous personnel development
We are very proud of the AS9100 Revision D recognition and are confident its importance will be acknowledged by customers throughout the aerospace field," comments Operations Director Alan Norton, who will oversee the integration of the standard into the company's culture alongside a continuous programme of personnel development. "We believe it reflects not only on our manufacturing procedures but also on the commitment and capabilities of our workforce," he concludes.
Download Aerospace AS9100 Approval Certificate