Indestructible Paint Enhances Personnel Development Commitment with IMF Opportunity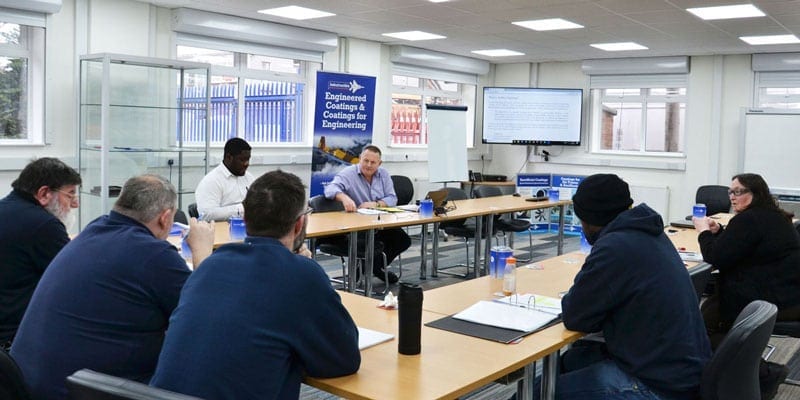 Industrial Paint Suppliers
The importance of staff development, which is one of the key factors behind our success, is to be further underlined in 2018. Indestructible is making key Institute of Materials Finishing (IMF) training available to all employees in a move that will develop an understanding of the industry at every staff level.
"
Providing an understanding of material finishing
We are giving our employees the opportunity to undertake the IMF Foundation Course which is designed to provide a broad understanding of material finishing and surface engineering," says Indestructible Paint's Sales & Technology Mentor, Graham Armstrong, who is also Secretary General at the IMF. "
We believe that the nature of our work calls for an excellent understanding of a wide range of technical factors at every level, so we have taken the step to broaden this knowledge across our full workforce as part of our commitment to Continuous Professional Development."
Graham Armstrong points out that this is one of the key factors behind Indestructible Paint's list of accreditations – not least the company's recent achievement of AS9100 Revision D which is of particular significance in the aerospace sector.
"
Good enthusiasm
The IMF course comprises a 13 week programme that includes two assignments and a 90 minute examination, so there is a need for a full commitment from those taking part," says Brian Norton, Indestructible Paint's Managing Director. "
We are delighted to say that, to date, a number of employees have already taken advantage of the programme, including some who have achieved a Technical level.
There is already a good enthusiasm for the next programme starting early this year – indeed, to date, 15 of our 40 members of staff have confirmed that they wish to undertake the training.
Committed to helping our employees develop their skills and understanding
"We are committed to helping all of our employees to develop their skills and understanding and the IMF course is an excellent means of achieving this – to the benefit of our staff and customers alike," he concludes.
"The IMF frequently work with sustaining members to provide both foundation and technician courses for several of their employees, and it is very pleasing to see Indestructible Paint is the latest example," adds David Meacham, IMF Education and Training Manager.