Indestructible Paint Brings Advanced Coating Technology to Singapore Airshow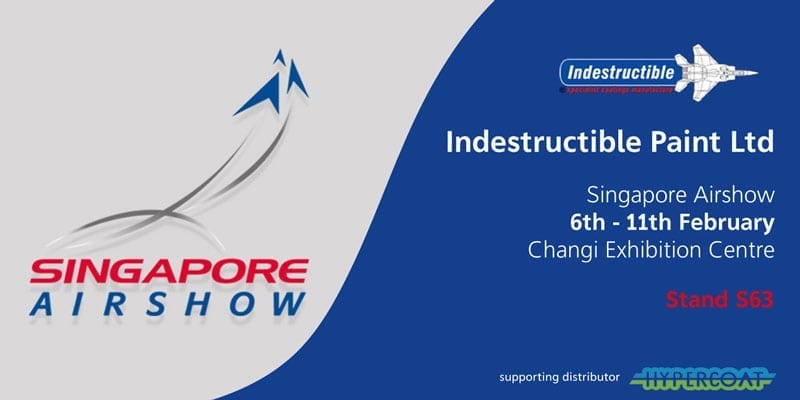 Indestructible Paint Ltd is once again presenting its products and capabilities at the Singapore Airshow. Taking a key position on the Hypercoat stand S63 – who are a major distributor for Indestructible Paint in Asia, Australia and New Zealand – we will be highlighting our capabilities and experience of providing coating solutions across the aerospace sector.
Ongoing commitment to innovation, research and development
"Our products are used throughout the region and, indeed worldwide, in both new build and MRO operations," says John Bourke, Indestructible Paint's Global Sales Manager, who will be joined on the stand by Sales & Technology Mentor Graham Armstrong. "
We will be delighted to talk to prospective customers not just about product performance but also our ongoing commitment to innovation, research and development, and working closely with each user to develop their own understanding of product capabilities and specifications."
Meeting customer needs
These factors all echo Hypercoat's own approach who point to a philosophy that focuses on meeting customer needs via cost efficient solutions. "Hypercoat sees aircraft parts coating technology as a blend of 'science and art' and is committed to supplying products that are able to perform under extreme conditions. This is a view that we fully recognise and endorse," adds John Bourke.
One of our main highlights will centre on the development of alternative products to Chrome VI. These include, for example, the company's IP3-6700 chrome-free epoxy primer – just one of Indestructible Paint's products that will come under the spotlight on the stand in Singapore.