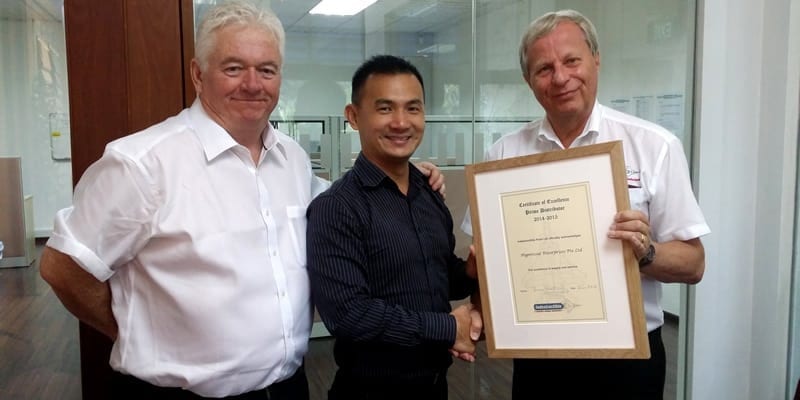 INDESTRUCTIBLE PAINT BUILDS ON ESTABLISHED DISTRIBUTION CAPABILITY IN AUSTRALASIA.
The success of Indestructible Paint Ltd.'s performance coating range has taken another step forward with key developments to its overseas distributor network. Singapore-based Hypercoat, who already supply extensively for the company into the aerospace manufacturing sector in the Asian market, has added Indestructible Paint's products to its range in China, Australia and New Zealand.
"We have a well-established relationship with Hypercoat based on the capability of our coatings to meet diverse application needs in the aircraft building industry – reflecting the company's own skills and reputation," says John Bourke, Indestructible Paint's Technical Sales Manager. "By adding our materials to its sales and service capability in these new territories, we believe the success and growth of both organisations will be significantly enhanced."
Research And Development Are Important
John Bourke also believes that the business philosophy of Indestructible Paint and Hypercoat are very closely aligned – particularly in the two companies' belief in the importance of research and development.
"Hypercoat bases its philosophy on a focus on meeting customer needs by cost efficient solutions to both aircraft parts and material requirements," adds John Bourke, "which echoes our own views across a wide range of air frame, engine and avionic componentry."
Science And Art
The distribution company sees aircraft painting as a combination of 'science and art' that results in coatings that are able to perform under extreme conditions – a stance that Indestructible Paint is happy to endorse.
"Indestructible Paint's products are engineered to provide the perfect blend of protection, performance and appearance which matches Hypercoat's own stated objectives," continues John Bourke, "so there is a close synergy between our own approach and that of one of the major specialist distributors in the region." He believes that the addition now of China, Australia and New Zealand to the list of countries that can benefit from this combined capability is a key step forward into the future.
Quality Service And Leading Products
It is a view that is echoed by Steven Kiu, Business Development Manager at Hypercoat Enterprises.
"We have built our excellent reputation on a commitment to combining quality service with leading products, and we are delighted that our established relationship with Indestructible Paint is now to be developed further into these key international territories," he says.