INDESTRUCTIBLE PAINT'S NEW WEBSITE LAUNCH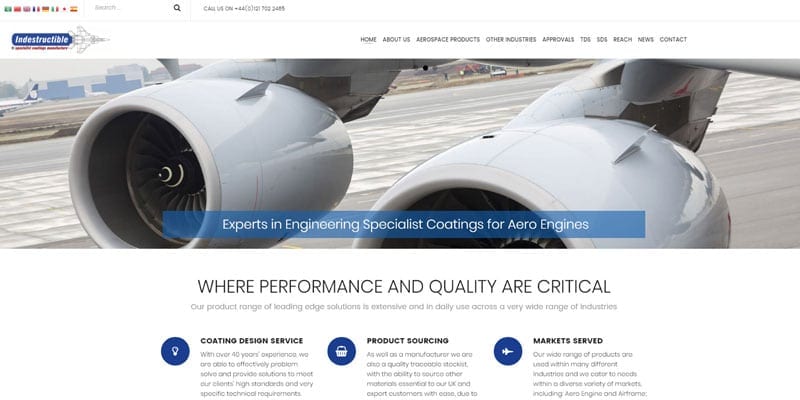 Indestructible's new website, designed to provide greater access to a broad range of products, regulations and ongoing innovation, has now been launched!
We are drawing attention to the key elements that are now built into the site, which provide a more comprehensive yet easy-to-use website.   
"We recognise that a highly informative, user-friendly website is vital to our worldwide customer base – both as a means of building an understanding of the technology involved and also as a key guide in helping the most suitable coating products to be identified and supplied," says Brian Norton, Indestructible Paint's Managing Director.  "Therefore, we have structured the site to enable visitors to access not only product details but also guidance notes on other key factors of relevance to the coatings industry – from an overview of the REACH regulations to comments on Brexit."
The vast range of products available from Indestructible Paint – enhanced by our continuous commitment to developing tailored solutions to meet customer requirements – are clearly explained. Our new product catalogue includes all of our manufactured products and is fully searchable by product code, name, category, and approvals.
This information sits alongside details relating to the main industry sectors in which we are active – most notably aerospace, in which our company has always been particularly active, but also automotive and a wide range of other industrial and engineering fields.
"The new site also highlights our coating design service which links directly to our research and development capability that has always been at the heart of our success," continues Brian Norton.  "Because we have long placed emphasis on bespoke products for niche markets, this is an area that has a direct and beneficial impact on product performance and has, in turn, led to our achievement of many national and international standards and company accreditations."  Details of these are available to view here.  
With easy access to technical datasheet downloads, all visitors to the new Indestructible Paint website can obtain full details on product performance and application methods. A simple contact facility and safety datasheet request form also allows direct liaison with our sales team to enable customers to develop solutions to their own performance paint and coating requirements.