Rail Innovation 2021 | Indestructible Paint's New Coating Technology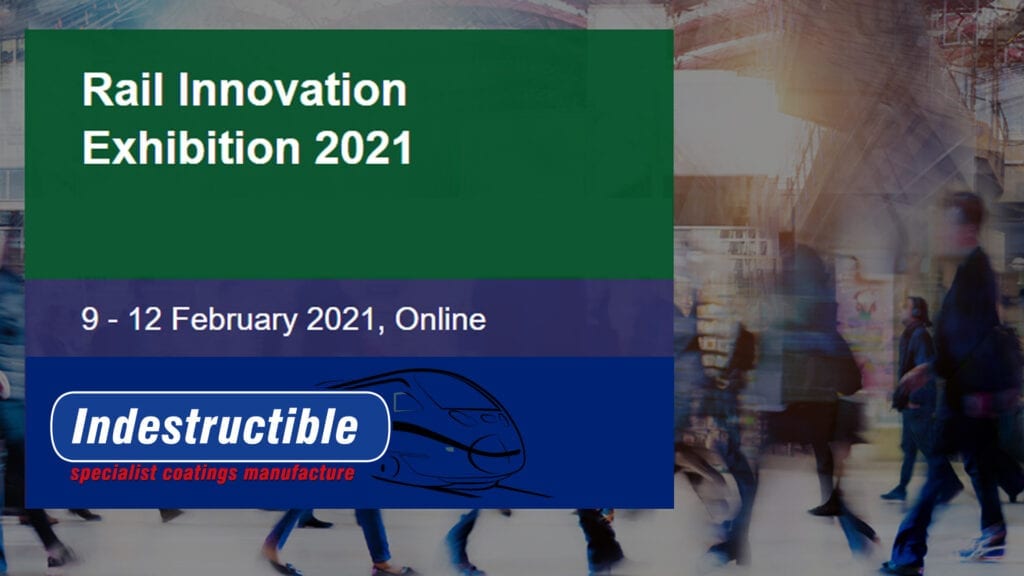 New Specialist Coating Technology For The Rail Industry In The Spotlight
Rail Innovation Exhibition 2021 | Indestructible Paint will be shining a spotlight on a new range of specialist coating technology engineered for the rail industry. The exhibition, which will take place over 4 days from 9th – 12th February 2021, will be a virtual event. Hosted from the Rail Innovation Exhibition platform. 
This event, brought to you by Innovate UK, KTN, the Department for Transport, and the Railway Industry Association, will bring together a fantastic line-up to demonstrate some of the most exciting innovations and projects the rail sector has to offer. Indestructible Paint are excited to be taking part and to be able showcase an exciting new line of rail coating products. What's more, they have been developed from some four decades of experience of coating technology. Not to mention, many of them in  the most challenging of global environments.
Attendees will be given the opportunity to view our virtual exhibition stand. Here we will showcase our range of high-performance rail coating solutions and services. Additionally, delegates can book a 1-1 meeting with the Indestructible team. Indestructible Paint's dedicated Rail Specialist and Regional Sales Coordinator, Michael Booth, will also be on hand. Alongside our sales team, to offer expert advice. With the benefit of some 30 years' experience in the industry, Michael offers an in-depth understanding of the challenges faced within the industry. He has worked with Indestructible Paint to match coating technology solutions to these.
Attending Rail Innovation 2021 Virtual Exhibition
To attend the exhibition please visit the Rail Innovation Exhibition website to register. Following registration you will receive an email with access to the Attendee Hub. To book a 1-1 meeting, please visit the Attendee Hub, where you will find an option to book your 1-1, once you have signed in.
To find out more on Indestructible Paint's rail specialist coatings,  read about the developing range of coatings solutions.
You may also wish to find out more about RWIP120 2 Pack Epoxy Paint for Steel by reading this article