Indestructible Paint Keeps Performance Coatings Training Courses In Clear Focus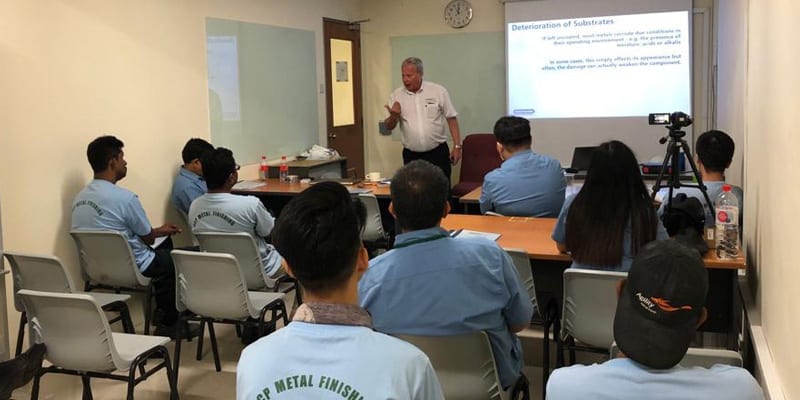 During this difficult time, we at Indestructible Paint are reinforcing our commitment to providing comprehensive product and application training to our customers. We are proud manufacturers of specialist performance paints and coatings. So currently, we are drawing attention to the benefits we can provide to our customers once manufacturing processes are restored.
"Obviously, manufacturing operations are being impacted by the current global issue. But we anticipate that when resolved and production begins to escalate again, the demand for our products and, therefore support training will grow very rapidly," says Brian Norton, Managing Director at Indestructible Paint.  "That is why we remain very receptive to helping all our customers plan both short term and future training needs to ensure that staff are fully skilled for the manufacturing upturn."
Performance Coatings Training Courses
We have built our reputation on developing and supplying high-performance paints and coatings. These provide key performance characteristics. For example, heat resistance and low friction.  Our customers are worldwide in some of the most challenging environments, such as aerospace. Therefore, we focus greatly on being able to manufacture in volumes that often meet a specific, niche requirement. We also focus on our support services.  These include research and development, regulatory support and a wide choice of coatings training courses and packages.
"It is vital that our customers are fully aware of coating performance and application methods. While also keeping pace with changes to legislative and environmental obligations," says Graham Armstrong, Indestructible Paint's Customer Training Manager.  He says that training packages are, therefore, invariably tailored to meet specific customer needs. Additionally, they encompass a range of disciplines. From the technical characteristics of different coatings, the theory of paint application and health and safety, to practical spray shop instructions and quality control procedures.
The company says that, in many cases, its training also reflects its customers' ongoing commitment to Continuous Professional Development (CPD).  Because this helps to build individual skills, the company's coatings training courses can make a fundamental contribution to commercial success.
"Despite the current issues, we are confident that customers across our marketplaces worldwide will look to become fully operational at the earliest opportunity," concludes Brian Norton.  "We are both ready and well equipped to help them move forward rapidly via both high performance products and our support services, with training high on the agenda."
Contact Us Today
If you would like to find out more about our coatings training courses, head to our website today. Or, call +44(0)121 702 2485 to speak to a member of our helpful and friendly team.
If you have found this blog helpful, you may wish to read our previous blog on Protective Coating Systems.