Indestructible Paint Assist in Bringing a Famous Aircraft Back to Life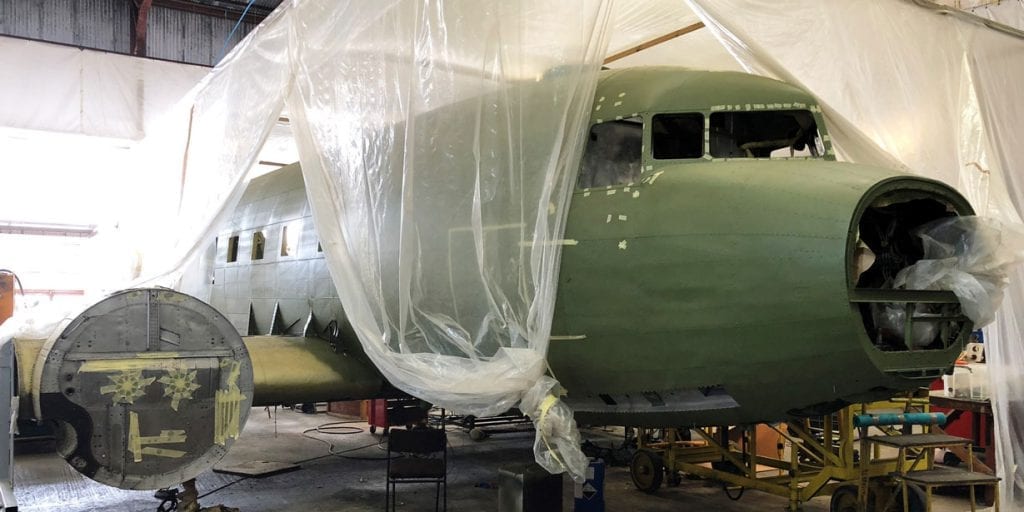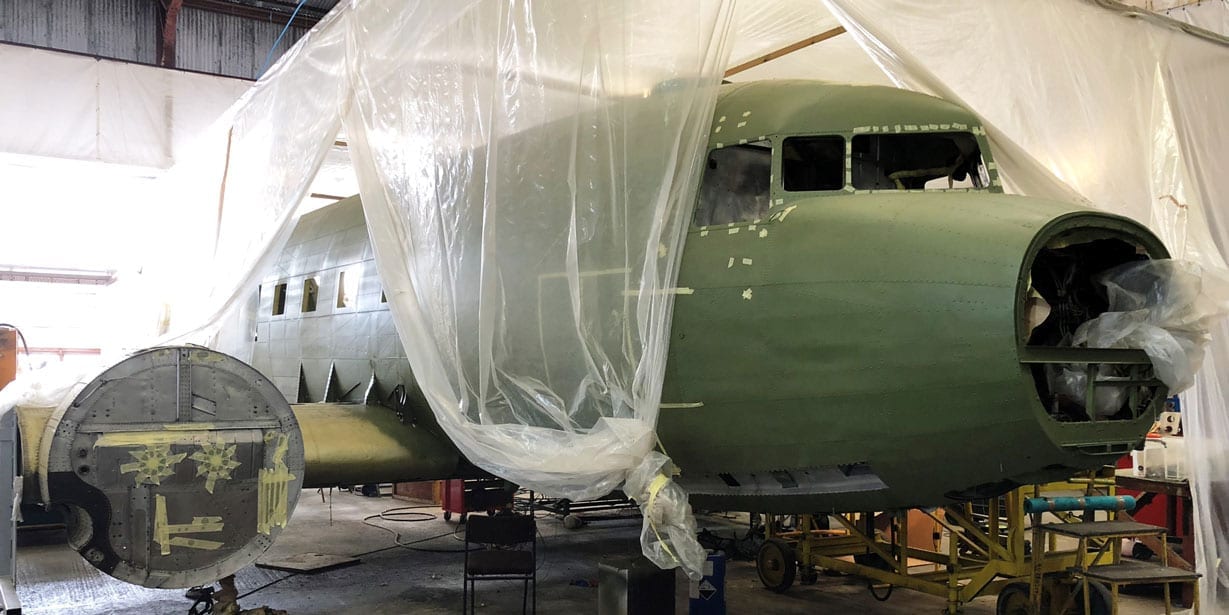 The enthusiasm and expertise shown by Indestructible towards the renovation of classic and historical aircraft are now being further demonstrated with a remarkable World War II restoration project.  Indestructible responded to a request by Heritage Air Services – a dedicated team currently bringing a Dakota C-47 back to its former glory – who intend to involve the aircraft in the 75th D-Day Landing Commemorations in the summer of 2019.
"This is a highly impressive project and one for which we were delighted to offer our products and expertise," comments Brian Norton, Indestructible Paint's Managing Director.  "The twin objectives of protection and appearance to match the plane's original livery are central to our involvement, which demonstrates both our product capability and the skills of our laboratory team."
Restorative work to be done
The aircraft itself was located in America and brought back to the UK in sections for the restoration work to be undertaken.  Based at Coventry Airport, the project, under the management of Ben Cox at Heritage Air Services, is set to address significant airframe corrosion issues alongside extensive mechanical repairs before its involvement in the events in 2019.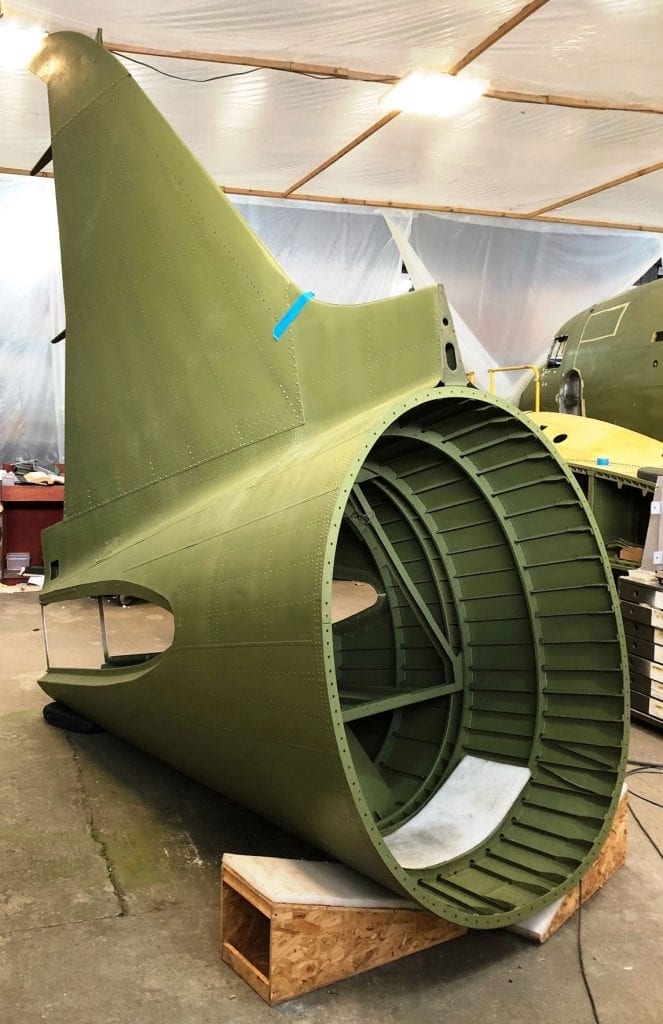 "Our team identified two areas where we are able to contribute – the performance and aesthetic objectives," continues Brian Norton.  "We, therefore, provided our IP9064 Epoxy Strontium Chromate Primer, which is resistant to all normal aircraft operating fluids.  The whole of the aircraft will be coated with the product, which will also be colour-matched in our laboratory to match a panel taken from the original aircraft.
"Additionally, our IP6 range of low VOC air-drying, pigmented polyurethane finishing coating will provide flexibility and chemical resistance for light alloy sections," adds Brian Norton. "Significantly, we are supplying this product in six different colours so that the aircraft can be restored with all of its original markings including its unique 'Night Fright' logo towards the front of the aircraft."
Its own specific proud history
The restoration team points out that the specific aircraft, of a type that would take on a civilian role after the war as a DC–3, has its own specific proud history.  The Night Fright name itself helped to define its role during the war where it made a key contribution as part of Troop Carrier Command operating from Membury Airfield in Berkshire.  Ultimately, it will become part of a planned museum on the same site which will be open to the public.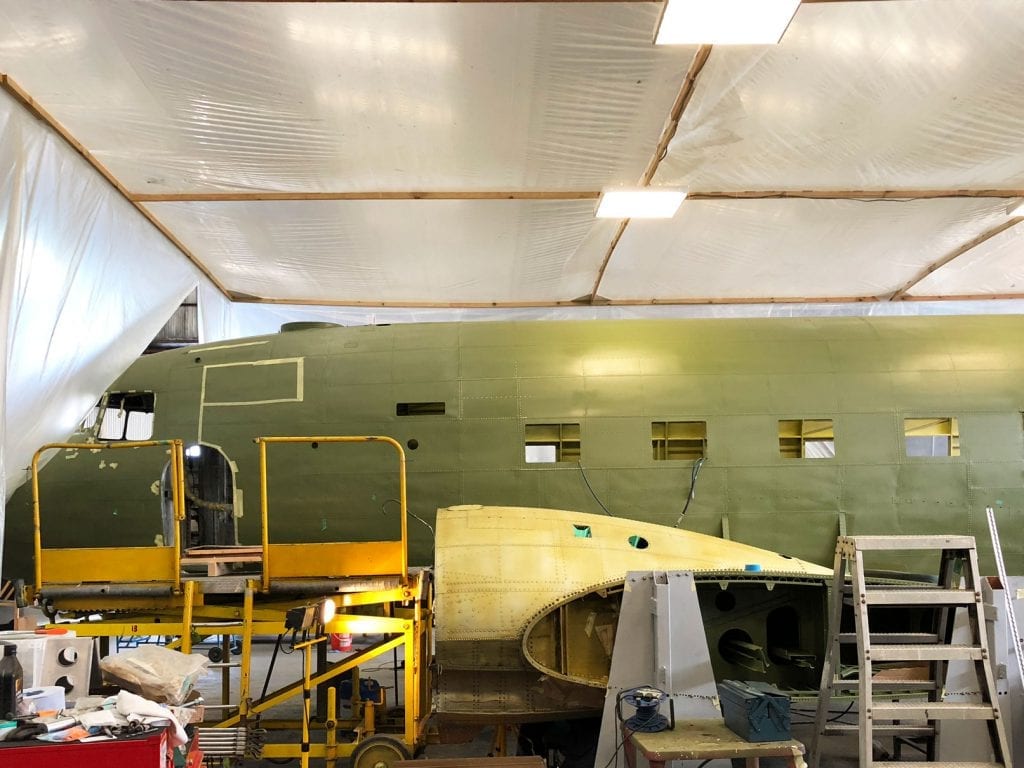 "This is the latest in a series of aircraft restoration projects with which we have been involved in recent years," continues Brian Norton.  "Today, the global aerospace industry is a key market for our expertise and products – many of which have been developed to meet specific performance needs in the sector – so we believe it reflects our involvement in the industry, both past and future.  The team that is hard at work at Coventry Airport deserves enormous credit for its efforts and we look forward to the aircraft's deserved participation in next year's D-Day commemoration events," he concludes.
If you would like to discuss our high standard epoxy coatings or any other specialist coatings that we do, then please do get in touch with our team at Indestructible Paint today!