COMMITMENT OF INDESTRUCTIBLE PAINT STAFF CENTRAL TO FLOOD DAMAGE REFURBISHMENT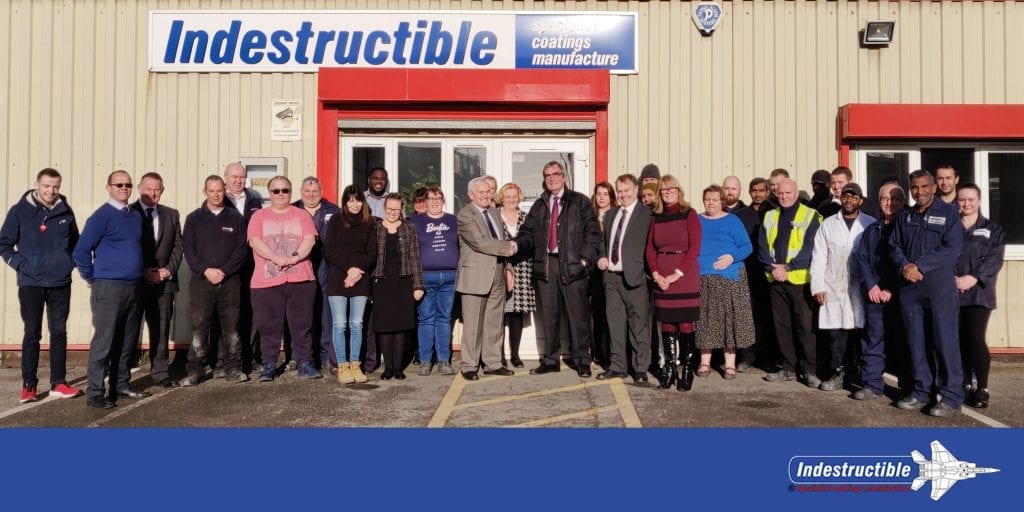 "A remarkable demonstration of the dedication and determination of our entire workforce and I am grateful to them all."
Brian Norton, Managing Director of Indestructible Paint, is clear about his view of the ability of the Indestructible staff to overcome the sort of difficulty which, he believes, would have seen many companies struggle to survive.  Indestructible suffered extensive flooding in the early summer of 2018 – he understands that a month's rain fell in just two hours – which had an impact on every corner of the 60,000 sq. ft. of the site, where specialist performance paints and coatings are manufactured for customers worldwide.
"Everybody has pulled together to address the major clean-up operation that was required and did so without any negative effect on our services and commitments to customers," continues Brian Norton.
"Raw material storage, machinery and equipment, and office facilities were all affected when the deluge proved too much for the nearby River Cole," he explains.  "Because we could immediately call all hands to the metaphorical pump, we were able to lift supplies and equipment to a higher position quickly while also relocating essential office systems to a part of the site that was less affected."  He adds that the fact that this had no impact on the company's supply and sales operations is truly remarkable and says he is proud of the input and support from all concerned.
At the end of 2018, Indestructible was able to announce completion of the repair and refurbishment programme and was delighted to welcome local MP Roger Godsiff to the site to mark the occasion.  "We are now taking positive steps to minimise this type of risk in the future, not only by designing our refurbished premises accordingly – for example, via the location of storage and the elevation of electrical supply and other services – but have also joined the National Flood Forum and a number of other bodies to address the issue locally," adds Brian Norton.
"Perhaps most noteworthy of all is the fact that despite the problems, not only were we able to retain our obligations to our customers, we also achieved increased business towards the end of 2018 – most notably from China and Japan.  It's a flood – of new orders – that we are very happy to handle," concludes Brian Norton.