Spotlight on Indestructible Paint's Chairman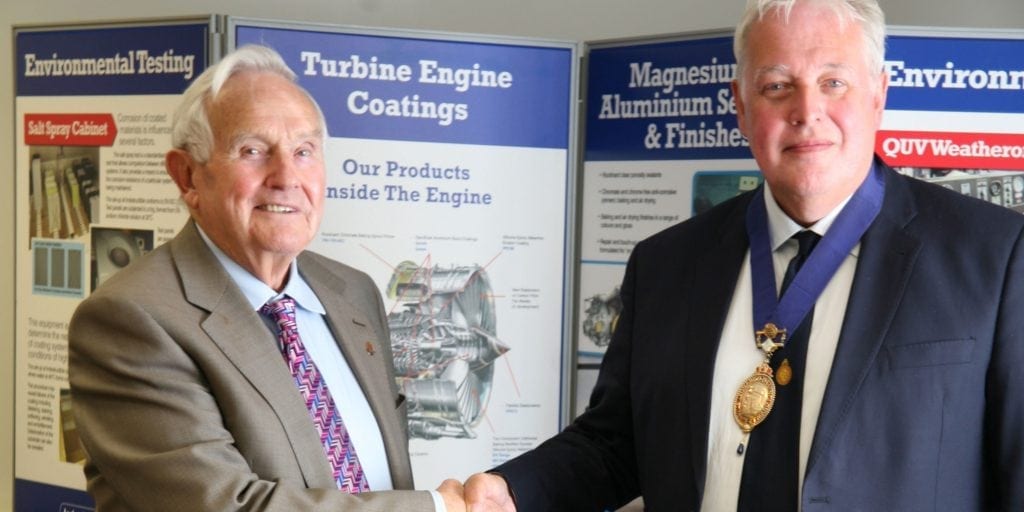 Indestructible Paints Birmingham
As Indestructible head towards an important milestone, celebrating 40 years of service this July, we shine a spotlight on the company's founder and now Chairman, Doug Norton.
Doug, as he is known, will be a familiar face to many past and present members of OCCA and other paint trade associations.
Having started in the industry in 1947 as an apprentice Laboratory Assistant in a Birmingham based paint manufacturer, Doug reflected on his career and how it led to the birth of Indestructible Paint. "It's a long time since I joined the paint trade, but it seems to have flashed by." Following four years at the company where he first started as an apprentice, deferred National Service awaited him on his 21st birthday in 1951. After two years in the army, working with ammunition, he renewed his employment in the industry that was to become his life's work by joining Permoglaze at Tenbury Wells
In 1956, Doug joined Gittings & Hill, a subsidiary of the original Indestructible Paint Company, where he had a number of titles including Assistant Chief Chemist, Technical Manager and Export Manager.
In November 1977, anticipating redundancy, a small column in the Financial Times, which no one else seemed to have noticed, caught Doug's eye – Indestructible Paint Co. had been taken off the register due to absence of trade.
Because of this, Doug, with the aid of, as he put it, "a local solicitor with a sense of humour" was able to register the name Indestructible Paint Co. (1978) Limited. The certificate was dated 4th July (now known as 'Doug's Independence Day') and the new company was born.
Major supplier of specialised coatings
Forty years later Indestructible is a major supplier of specialised coatings to the international aerospace industry
The original "shoestring " staff of family & local friends has been replaced over the years by a highly skilled team which still includes six family members, with Doug, Brian, & Alan as Chairman, M.D., & Operations Director respectively.
While this year marks a special anniversary for the company it also heralds a prestigious long service achievement for the chairman who was recognised for his 50 years' membership with the Oil and Colour Chemists' Association (OCCA). Commenting on his milestone, Doug said "While much has changed since I first entered the industry, I am a firm believer that the same business principles apply today. Building long term relationships with customers in both technical skills and commercial integrity rank alongside a commitment to innovation and hard work." In addition to receiving a 50 years' commemorative pin from OCCA to mark the occasion, he was also interviewed and featured in the association's journal, Surface Coatings International this May.
"I am very grateful to OCCA and to all of my colleagues over the years who have made this recognition possible."
If you didn't catch the interview first hand, we've included some snippets below:
How did you initially get into the coatings industry and when was that? 
By a fortunate accident in 1947! I had good school certificate results (the result of my parents' bribery with a new bike) and just one job interview for the post of Lab Assistant at the Llewellyn Ryland family business, ten miles from home.
What do you remember most about the paint and coatings industry around the time? 
A fascination with coal-fired copal resin varnishes, white lead, antimony and zinc oxides – new aromas of ketones, esters, alcohols, hydrocarbons, triple roll mills – all of which were state-of-the-art then.
How has OCCA helped shape your career in the coatings industry? 
In the earlier days of the OCCA journal, its 'Situations Vacant' provided a spur for further studies, and then in the 1960s it led to a much better understanding of the supply chain and the formation of new friendships. Since 1978, the family business has enjoyed a more active participation with family and staff, including three chairmen of the West Midlands OCCA.
How would you describe your career within the coatings industry and what have you enjoyed about it most? 
Apart from appalling growth of bureaucracy, it has been thoroughly enjoyable with supportive employers and colleagues at low times. We have, as a company, done our best to perpetuate this culture.
What is it about the coatings industry that makes people stay in it for such a long time? 
There is a unique spread of skills and technology in a fast-changing supply chain of raw materials, coatings, markets and application methods, with a constant spur to provide a safer environment and uncontaminated world.
What thoughts or concerns do you have about the industry in terms of how it is being shaped by external forces and prospects for chemists in the future? 
Well-meant Brussels bureaucracy is the first concern, but also the sacrifice of values by acquisitions using monetary values which are distorted by computer technology. Lost skills is also a concern – present apprenticeship schemes leave much to be desired but problem solving is a good chemists' strength.
Special thanks to OCCA and the Surface Coatings International journal for providing the photograph and interview included in this post.