Outstanding Achievement Recognised for Indestructible's Laboratory Technician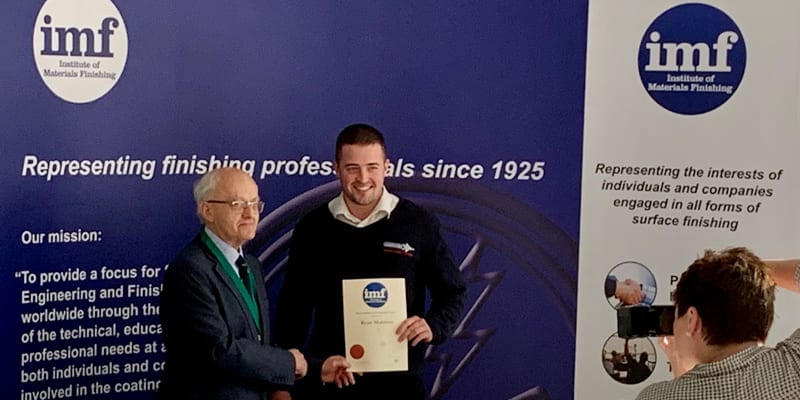 Indestructible Paint's Laboratory Technician, Ryan Mannion, was awarded a 'Best Student at Foundation Level' Award from The Institute of Materials Finishing (IMF). Ryan, who achieved a distinction on completion of the IMF Surface Finishing Foundation Level course, was recognised for gaining the highest marks when compared with all other participants of the course this year. The occasion was marked by an awards ceremony as part of the IMF's Annual General Meeting at the Cobden Hotel in Birmingham. 
Indestructible Paint have a long history of working closely with the IMF, who are internationally recognised as the "premiere source of expert knowledge on all aspects of metal finishing, coating and surface engineering technologies", to provide technical training and skills development for our staff. 
The Foundation Certificate, which has been undertaken by many of the staff at Indestructible, provides an opportunity to gain a deeper understanding of surface finishing and related technologies, improving knowledge of the processes operated within the company. 
"We believe that the nature of our work calls for an excellent understanding of a wide range of technical factors at every level, so we have taken the step to broaden this knowledge across our full workforce as part of our commitment to Continuous Professional Development." says Indestructible Paint's Sales & Technology Mentor, Graham Armstrong, who is also Secretary General at the IMF. 
Brian Norton, Managing Director at Indestructible adds, "We are committed to helping all of our employees to develop their skills and understanding and the IMF course is an excellent means of achieving this to the benefit of our staff and customers alike."
The course consists of 2 pieces of course work and a final exam covering 12 units, demonstrating the full commitment from those taking part and the extraordinary achievement of Ryan in gaining the highest marks from participants across the country.