Indestructible Paint Reports Successful Focus on Chinese Aviation Sector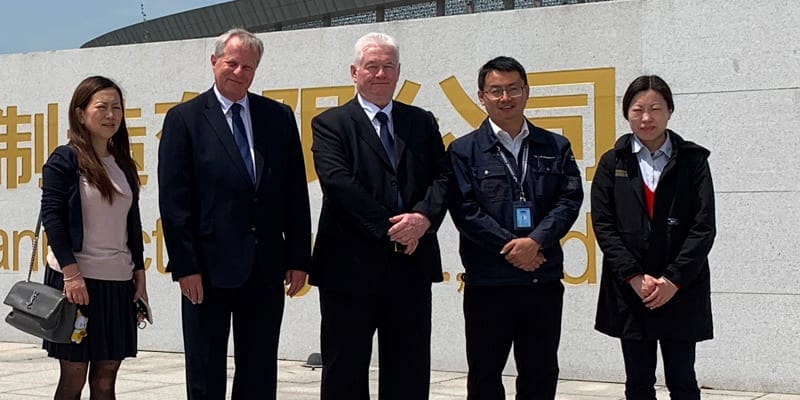 As the result of a highly successful trade visit to China last year, Indestructible is reporting a significant enhancement of its international presence.
John Bourke, Global Sales Manager and Sales and Technical Mentor, Graham Armstrong, completed a seven-day trade mission in spring of last year and have since been working on developing opportunities that have arisen, particularly in the aerospace manufacturing sector, in which Indestructible has a leading global reputation.
"We are extremely grateful for the help provided by both the British Consulate in Shanghai and the Department for International Trade in the region, both of whom organised meetings with key organisations in the industry," says John Bourke.  "As a result, we not only have a greater number of contacts in China, but have also been able to identify tangible business development opportunities in the country for both the short and long term."
A key component of the schedule included a visit to the Asian Business Aviation Conference and Exhibition – one of the leading events of its type in Asia.  Additionally, a series of meetings with major Chinese MROs and OEM organisations were held alongside a specific focus on Indestructible Paint's move towards the possibility of establishing new local distribution facilities.  Discussions with the China-Britain Business Council also formed part of the programme. 
"There is no doubt that China represents a leading centre for manufacturing of all kinds, not least the wide range of disciplines associated with the aerospace industry," adds Graham Armstrong.  He says that, in this context, Indestructible has had excellent opportunities to present a global experience in high tech coatings and to develop discussions that emphasise the key benefits we are able to offer to a number of leading bodies in the region.
"With the excellent support of the British Consulate and the Department for International Trade – via both their knowledge of the country's manufacturing activities and, of course, their help with translation – the visit was able both to develop existing contacts and also lay the foundations for new opportunities," adds Brian Norton, Indestructible Paint's Managing Director.  "We look forward now to building on the success of the visit in the near future."